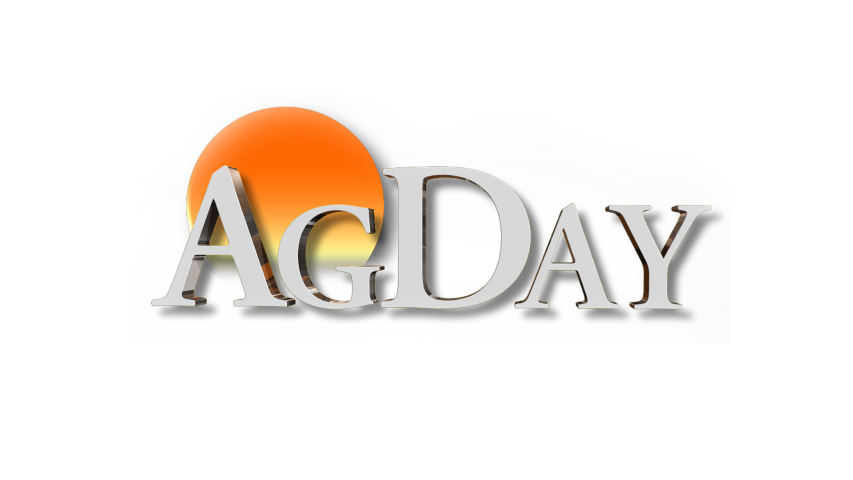 TODAY ON AGDAY
MARCH 1, 2018

HEADLINES
COMMODITY CLASSIC 2018!  WE'LL HEAR FROM A HOST OF EXPERTS AND  FARMERS ABOUT THEIR EXPECTATIONS FOR THE YEAR AHEAD. INCLUDING MAJOR ISSUES IN WASHINGTON. IN AGRIBUSINESS…MOODS AROUND 2018 ARE CHANGING A LOOK AT FARM BILL POSSIBLITIES IN WASHINGTON AND FINDING COMMON GROUND BETWEEN CONSUMERS AND FARMERS REMAINS  EVER ELUSIVE. AGDAY - BROUGHT TO YOU BY THE CHEVY SILVERADO, THE MOST DEPENDABLE, LONGEST-LASTING FULL  SIZE PICKUPS ON THE ROAD.

PERDUE AT COMMODITY, RFS
HELLO AND WELCOME TO THIS SPECIAL EDITION OF AGDAY FROM THE ROAD AT  THE 2018 COMMODITY CLASSIC IN ANAHEIM CALIFORNIA. I'M CLINTON GRIFFITHS  AND WE'RE HERE ON THE FLOOR OF THE TRADE SHOW. EVERY YEAR THOUSANDS OF FARMERS FROM ACROSS THE COUNTRY MAKE  THEIR WAY HERE TO DISCUSS THE STATE OF THE FARMING INDUSTRY. FROM  POLICY INCLUDING THE LATEST ON TRADE, LEGISLATION AND A NEW FARM BILL IN  WASHINGTON … TO THE LATEST IN FARMING INNOVATION AND EVEN FINANCES  AND MARKETING…THIS IS THE PLACE TO BE IN THE HEART OF THE DISCUSSION. WHILE THE TRADESHOW HAPPENS INSIDE THE SECRETARY OF AGUES ALSO ON HAND SPEAKING TO  FARMERS AT COMMODITY CLASSIC AND SHARING HIS UNEQUIVOCAL SUPPORT FOR THE RENEWABLE FUEL  STANDARD SAYING IT VERY CLEARLY IN THE VERY FRONT OF HIS SPEECH THAT HE SUPPORTS THAT RF  STANDARD ALTHOUGH HE DOES SAY THAT THERE NEEDS TO BE A CONVERSATION AND FOCUS ON MORE  VOLUME. MY SUPPORTED OUR OFFENSE HAS BEEN UNEQUIVOCAL. I DON'T KNOW HOW I CAN SAY MORE  CLEARLY THE FACT THAT I WILL NOT SUPPORT ANY POLICIES THAT THEY REDUCE THE DEMAND FOR ETHANOL  AND BIOFUELS LESS THAN WHERE WE HAVE IT CURRENTLY. MY GOAL IS TO GROW IT BY ELIMINATING THE  WAIVER ON RVP WHERE WE CAN BUILD UP A CULTURE OF 15 PERCENT ETHANOL FOR THE FUTURE. THE  RFS DOES NOT WORK WITHOUT RINS TO HELP DRIVE THAT INFRASTRUCTURE AND DRIVE THE INCREASED  ETHANOL USE. AND THAT'S WHY IT'S SO IMPORTANT. YOU CANNOT SEPARATE THE TWO. THAT'S ONE THE  WAY THE PROGRAM WAS PUT TOGETHER THE WAY IT'S MEANT TO WORK. IF YOU CAP RIN PRICES YOU'LL  DESTROY THE RFS BECAUSE IT NEEDS THE RENDS TO HELP THE RF FUNCTION AND CONTINUE TO BUILD  THAT GROWTH IN THAT DEMAND  PRESIDENT TRUMP ALSO HOSTING A MEETING AT THE WHITE HOUSE LATER TODAY WITH THE RENEWABLE  FUELS INDUSTRY AND PEOPLE FROM THE OIL INDUSTRY TALKING ABOUT THIS ISSUE HOPING TO FIND SOME  SORT OF DIRECTION ON THE RENEWABLE FUEL STANDARD TO FLORY HAS MORE ON THE CONVERSATION  THEY HAD EARLIER IN THE WEEK ON TUESDAY. ALL RIGHT EVERYBODY I'M CHIP FLORY COMMODITY CLASSIC WE'RE HERE WITH BOB DINNEEN PRESIDENT AND CEO OF THE RENEWABLE FUELS SO A BIG MEETING AT THE WHITE HOUSE. WAS IT A WIN. IT WAS A KICK THE CAN DOWN THE ROAD AGAIN WHAT WASHINGTON DOES BEST. THERE WAS NO DEAL MADE. NOTHING REALLY COMING OUT OF IT. OUR ADVOCATES ARE IN THERE FIGHTING FOR RURAL AMERICA. TED CRUZ IS FIGHTING FOR ONE SMALL REFINERY IN PENNSYLVANIA THAT'S BANKRUPT. YEAH ABSOLUTELY. OK. SO YOU SAY THAT WE'RE KICKING THE CAN DOWN THE ROAD. BUT THERE WAS NO CHANGE. GRASSLEY TWEETED OUT RIGHT AWAY NO DEAL STRUCK TO ME THAT MEANS THE FS STANDS AS IT IS ABSOLUTELY DOES. NOW LOOK WE'RE GOING TO CONTINUE TO TRY TO MAKE THE CASE THAT WE NEED TO MAKE SOME CHANGES. WE DON'T HAVE TO THINK SO. YOU KNOW THAT THE REFINERY. SYSTEM TEED UP UNDER A FALSE PREMISE THAT SOMEHOW REFINERY JOBS AND ETHANOL FARM JOBS CANNOT COEXIST. THAT'S NOT THE CASE. IN FACT BOTH CAN THRIVE UNDER A PROGRAM THAT IS PROMOTING THE INCREASED USE OF DOMESTIC RENEWABLE FUELS. OK WHAT'S NEXT. REAL QUICK WHAT'S NEXT WILL BE MORE DISCUSSED. WE'RE GOING TO TALK ABOUT THIS ALL SUMMER LONG I SUSPECT. YEAH. SO IT'S JUST GOING TO BE MORE DOING BATTLE WITH THE ANTI OR FAST CROWD. WHITH BOB DINNEEN I'M CHIP FLORY AT COMMODITY CLASSIC 1

TRADE UNCERTAINTY
THIS YEAR THE WORD IS UNCERTAINTY. UNCERTAINTY IN TRADE, UNCERTAINTY IN  POLICY, IN PRICE, FINANCES AND EVEN IN WEATHER. BUT WE BEGIN WITH ONE OF THE BIGGEST QUESTIONS…THAT IS TRADE. AS NAFTA NEGOTIATIONS BEGIN ONCE AGAIN THIS WEEK, LEADERS OF THE CORN  SOYBEAN WHEAT AND SORGHUM INDUSTRIES ARE HOLDING THEIR BREATH. THE PRESIDENT AND PRESIDENT OF MEXICO REPORTEDLY NOT THAWING  TENSIONS FOLLOWING A PHONE CALL OVER THE WEEKEND. ONE THAT ENDED IN  A CANCELED MEETING BETWEEN THE TWO. HOW THAT MAY IMPACT  NEGOTIATIONS AROUND NAFTA AND ULTIMATELY THE RESULT OF THE FREE  TRADE AGREEEMENT IS ONLY SPECULATION. BUT FOR THE PARTIES DEPENDING ON THOSE MARKETS…IT ONLY ADDS TO  RESERVATIONS. ..HOWEVER MOODS ARE BETTER NOW THAN THEY WERE  SEVERAL MONTHS AGO.   AND I THINK THAT AFTER THE LAST ROUND THERE'S THERE'S A LOT MORE OPTIMISM AND PROGRESS THAT'S  BEING MADE AND THE COMMITMENT OF ALL THE PARTIES TO FINDING SOLUTIONS TO MOVE FORWARD. SO  WE'RE EXCITED TO HEAR THAT KNOWING THAT YOU KNOW WE REALLY NEED THIS AGREEMENT IN PLACE TO  TO WORK TOWARD THE PROFITABILITY PRACTICALS 

BAYER, MONSANTO UPDATE
NOW LET'S SEND IT BACK TO THE STUDIO FOR BETSY JIBBEN AND LATEST NEWS  BEYOND THE WALLS OF COMMODITY CLASSIC. THANKS CLINTON.  THE CEO OF BAYER IS STILL CONFIDENT THE TAKEOVER OF  MONSANTO WILL OCCUR, BUT WERNER BAUMANN EXPECTS IT'LL BE PUSHED  INTO THE SECOND QUARTER OF THIS YEAR. BAUMANN SAYS THE COMPANY IS TRIMMING MORE OF ITS CROP PORTFOLIO TO HELP THE ACQUISITION GET REGULATORY APPROVAL. THE COMPANY IS SELLING ITS VEGETABLE SEED BUSINESS. LAST YEAR IT SOLD- OFF ITS COTTON, CANOLA, AND SOYBEAN LINES. THE EUROPEAN UNION IS EXPECTED TO FINISH ITS REGULATORY PROCESS ON  APRIL 5TH....WHICH IS ONE OF THE FINAL HURDLES IN THE 62-BILLION DOLLAR  DEAL.

U.S. POULTRY VICTORY
A PARTIAL VICTORY FOR THE U-S POULTRY SECTOR. CHINA HAS AGREED TO  REMOVE ANTI-DUMPING DUTIES ON U-S BROILERS FOLLOWING A RULING BY THE  WORLD TRADE ORGANIZATION. HOWEVER THE CHINESE MARKET REMAINS CLOSED TO U-S CHICKEN BECAUSE  OF A BAN STEMMING FROM THE AVIAN FLU OUTBREAK IN THE U-S BACK IN 2015. ONE U-S POULTRY TRADE GROUP SAYS "WE'RE HOPEFUL BUT NOT OVERLY  OPTIMISTIC".

TRUMP INFRASTRUCTURE
ONE OF PRESIDENT TRUMP'S TOP PRIORITIES ON HIS DOMESTIC AGENDA IS  INFRASTRUCTURE. BUT A LEADING REPUBLICAN SENATOR DOESN'T THINK THE  PUBLIC WORKS PROJECT WILL GAIN MUCH TRACTION THIS YEAR. SENATOR JOHN COR-NIN OF TEXAS DOUBTS CONGRESS WILL MOVE ON THE  TOPIC TO UPGRADE THE NATION'S HIGHWAYS, BRIDGES AND RIVER LOCKS. ONE  OF THE BIGGEST STUMBLING BLOCKS - HOW TO PAY FOR IT. THE WHITE HOUSE UNVEILED THE PLAN THREE WEEKS AGO. TRANSPORTATION SECRETARY ELAINE CHOW IS SCHEDULED TO TESTIFY DURING  THE FIRST CONGRESSIONAL HEARING ON INFRASTRUCTURE LATER TODAY. THOSE OF SOME OF YOUR OTHER HEADLINES - NOW BACK TO CLINTON AT  COMMODITY CLASSIC.

CROP COMMENTS
WHILE WE'RE ENJOYING THE WEATHER IN CALIFORNIA THIS WEEK, MIKE  HOFFMAN IS KEEPING TABS ON THE REST OF FARM COUNTRY. SHE HAS TODAY'S  CROP COMMENTS. I WISH I WAS WITH YOU OVER IN CALIFORNIA, CLINTON. ENJOY THE SUNSHINE! I'M SURE DEBBIE HINSHAW WISHES SHE WAS OUT WEST TOO.  HERE'S A LOOK OUT HERE WINDOW IN CLAY COUNTY, MISSISSIPPI WHERE THE  AREA IS A MUDDY MESS!  DEBBIE SAYS RAIN HAS BEEN COMING DOWN OFF AND ON ALL WEEK. THE  FORECAST LOOKS AS IF THE RAIN WILL FINALLY STOP ON FRIDAY. IT'S THAT TIME OF YEAR.  AND TAKING A LOOK AT THE WIND SPEED FORECAST FROM TEXAS INTO THE GREAT LAKES AND ALSO THE  SOUTHEAST AND THE WEST. LOTS OF AREAS WITH SOME WIND ISSUES TODAY AS YOU CAN SEE  ESPECIALLY INTO THE AFTERNOON HOURS HEADING INTO THE DAY. TOMORROW YOU CAN SEE HOW THE  WIND IN THE EAST MOVES TO THE MID-ATLANTIC IN THE EASTERN LAKES. OUT WEST IT'S IN THE  INTERMOUNTAIN REGION THEN IT EXPANDS AS WE HEAD THROUGH THE AFTERNOON HOURS WILL OF THE REST  OF YOUR FORECAST COMING UP BUT FIRST HERE'S SOME HOMETOWN TEMPS YOUR NEXT PIECE OF EQUIPMENT IS ON MACHINERY PETE DOT COM. SEARCH EQUIPMENT FROM  DEALERSHIPS ACROSS THE COUNTRY TO FIND WHAT YOU'RE LOOKING FOR. ONLY ON MACHINERY PETE DOT  COM. 

TEASE
WHEN WE COME BACK WE'LL TALK MARKETS HERE AT COMMODITY CLASSIC IN  ANAHEIM CALIFORNIA. AND LATER, BRIDGING THE DIVIDE BETWEEN CONSUMERS AND FARMERS.

FLOOR OF THE CME
WHILE WE'RE OUT IN CALIFORNIA LETS SEE HOW MARKETS ARE HOLDING UP  BACK IN CHICAGO ON THE FLOOR OF THE CME. THE BIG STORY TODAY IS REALLY THE WHEAT THE WHEAT IS JUST ABSOLUTELY SURGING. IT SEEMS THAT THE  CROP CONCERNS IN THE U.S. IS REALLY DRIVING THIS MARKET. WE'VE GOT A SEVEN MONTH HIGH TODAY  AND THE MARKET STILL LOOKS REALLY GOOD. IT LOOKS LIKE THAT THERE'S STILL YOU KNOW SOME SOME TIME  TO RECOVER IN THE CROP AREA AND IF WE DO GET SOME RAIN WE DEFINITELY COULD COULD RECOVER. AND  THINGS CAN GO WELL BUT RIGHT NOW IT STILL LOOKS LIKE YOU KNOW AS TIME GOES ON IT GETS CLOSER AND  CLOSER. IT'S GOT EVERYONE A LITTLE BIT NERVOUS HOGS IS THE REAL STORY TODAY. A REAL SHARP DROP  TODAY. THE LARGE SUPPLIES AND JUST WEIGHING ON THE FUTURES RIGHT NOW AND IT'S JUST TELLING US  THAT THERE'S REALLY NO BUYERS STEPPING IN TO KIND OF SUPPORT THAT MARKET. WE DID EXPECT THAT.  THAT THERE WOULD BE SOME BARGAIN HUNTERS COMING IN BUT IT KIND OF DIDN'T HAPPEN. SO IT LOOKS  LIKE THE LATE WINTER OFFERINGS ARE ALLOWING THE HOG BUYERS TO JUST YOU KNOW RELAX THEIR BIDS  SOMEWHAT. THAT'S OFTEN THE FLOOR AT THE CME GROUP. I'M VIRGINIA MCGATHEY

AGRIBUSINESS
WE FOUND MARK GOLD TOP THIRD AG MARKETING HERE. MARK IT  SEEMS LIKE SIX WEEKS AGO WE HAD A COMPLETELY DIFFERENT PERSPECTIVE OF WHAT THE WHAT THE  MARKETS WERE GOING TO DO IN MOODS OF CHANGE. STILL IN BED. ARE YOU FEELING THE SAME WAY.  WELL ABSOLUTELY. WE'VE SEEN IT IN A NUMBER OF PHONE CALLS AS WE HAVE BEEN TAKING OVER THE  LAST SIX WEEKS. AND YOU KNOW WHEN YOU GET THE DROUGHT IN ARGENTINA AND SOME PROBLEMS IN.  BRAZIL WE RALLY THESE BEING SIGNIFICANTLY RALLIED THE CORN OUT OF THE DOLDRUMS GOT THE FUNDS TO  COVER THEIR SHORT CORN. IT'S IT'S BEEN A GOOD SIX WEEKS FOR THE AMERICAN FARMER. WHERE DO WE  GO FROM HERE. BECAUSE YOU KNOW WE'RE STARTING TO WAIT ON THIS ACRE'S REPORT FROM USDA AT  THE END OF THE MONTH. WE WERE KIND OF SEEING OK THERE'S NOTHING NEW HAPPENING UNTIL WE GET TO SPRING. WHERE DO WE GO FROM HERE. OR IS THIS IT. IS THIS THE OPPORTUNITY. WELL I'VE  ALWAYS SAID YOU GET AT LEAST ONE OPPORTUNITY EVERY YEAR TO MARK A GRAIN OF GOOD PRICES. THIS  IS AN OPPORTUNITY YOU GOT FOR OUR NEW CROP CORN. YOU'VE GOT 10 40 NEW CRAB BEANS. YOU DON'T  WANT TO LET THIS SLIP AWAY. WE GENERALLY MAKE THE HIGHS TOWARD THE END OF THE MONTH. WE'RE  HERE RIGHT NOW. AND. YOU KNOW MAYBE WE CAN GO HIGHER BETWEEN NOW AND FRIDAY BUT I THINK  THIS IS A GREAT OPPORTUNITY GUYS NEED TO TAKE ADVANTAGE OF. OK. SO YOU KNOW THERE'S THIS  OPTIMISM WE'VE GOT A LITTLE BIT OF AN OPPORTUNITY HERE AS YOU LOOK OUT INTO 2018 WHEN OTHER  INDICATORS ARE YOU WATCH. WELL CERTAINLY YOU KNOW ONE OF THE ACREAGE NUMBERS IS GOING TO BE  AND I'VE BEEN SAYING FOR QUITE SOME TIME THE ACREAGE NUMBER ISN'T GOING TO BE ABOUT THE  CORN BEAN RATIO. WE'RE AT TWO POINT SIX TO ONE. IT CERTAINLY FAVORS BEANS BUT IF WE GET A GOOD  SPRING AND FARMERS CAN GET IN IN THE IN THE FIELDS THEY'RE GOING TO PLANT CORN AND WE'RE STILL  GOING HAVE MORE CORN ACRES AND ACRES. IF THERE IS ANY PROBLEM THEN WE'RE GOING TO SEE THE  SHIFT INTO SOME BEANS BUT WHEN IT'S ALL SAID AND DONE IT'S AS MUCH A MATTER OF WHAT'S OUR  WEATHER GOING TO BE THIS GROWING SEASON. IF WE HAVE GOOD CROPS NO MATTER WHAT THE ACRES  ARE WE'RE GOING TO BE LOOKING AT LOWER PRICES. IF THERE'S ANY GLITCH IF THE DROUGHT MOVES NORTH  AND EAST INTO THE MIDWEST THEN WE'VE GOT WE'VE GOT A SERIOUS PROBLEM. ALL RIGHT SO WHAT'S TO  WATCH. AND OF COURSE THEY ALWAYS RELY ON SOMEONE THAT MARK THANK YOU SO MUCH WE'LL BE  BACK WITH MORE IN JUST A MINUTE  AGDAY - BROUGHT TO YOU BY LIBERTY HERBICIDE, THE SIMPLY BETTER SOLUTION FOR SUPERIOR WEED  CONTROL AND A STRONGER YIELD.

WEATHER
WELCOME BACK TO AGDAY I'M METEOROLOGIST MIKE HOFFMAN AS WE TAKE A LOOK AT THE WEATHER  MAP YOU CAN SEE A BIG WET STORM SYSTEM IN THE EAST. NOT A LOT OF FOLKS IN THIS AREA NEEDS.  THEY'VE HAD FLOODING IN THE I 80 CORRIDOR OR DOWN INTO PARTS OF THE SOUTHEAST MID-ATLANTIC  OVER THE PAST WEEK OR SO AND WE'RE SEEING MORE RAIN IN THOSE AREAS SECONDARY COLD FRONT WILL  SWITCH SOME OF THAT RAIN TO SNOW IN THE NORTHERN FRINGES. AND THIS IS A POWERFUL SYSTEM OUT  WEST. NOW OBVIOUSLY PLACES IN CALIFORNIA IN THE SOUTHWEST CAN USE ALL THE MOISTURE THEY CAN  GET OUT OF THIS AND THERE IS GOING TO BE A FAIR AMOUNT OF IT. YOU CAN SEE AS WE HEAD THROUGH  THE DAY TODAY THAT SYSTEM WILL BE VERY SLOW OFF THE WEST COAST. THE ONE ALONG THE EAST COAST  WILL BE MOVING INTO PENNSYLVANIA AND NEW YORK AS WE HEAD THROUGH THE AFTERNOON AND  EVENING HOURS WITH A COLD FRONT STRETCHING DOWN TO THE GULF OF MEXICO. FIRST TIME YOU'VE SEEN  A COOL FRONT IN A WHILE GOING ALL THE WAY INTO THE GULF OF MEXICO YOU CAN SEE BY TOMORROW  MORNING THAT'S ALL THE WAY INTO CENTRAL FLORIDA WITH SOME SCATTERED SHOWERS AND  THUNDERSHOWERS THERE. SNOW THEN IN THE NORTHEAST ESPECIALLY INTERIOR PARTS OF NEW YORK  PENNSYLVANIA EVEN DOWN INTO WEST VIRGINIA. THE EASTERN LAKES RAIN AND MOUNTAIN SNOWS OUT  WEST AND THAT WILL CONTINUE THROUGH THE DAY TOMORROW AND THERE'S MORE ENERGY FEEDING INTO  THE BACKSIDE OF THIS ONCE COLD FRONT GOES THROUGH. THAT DOES NOT MEAN YOU'RE DONE WITH THE  RAIN OR SNOW. YOU CAN SEE BY LATER IN THE DAY TOMORROW STILL SOME LINGERING SNOW. PARTS OF THE  NORTHEAST PRECIPITATION ESTIMATE PAST 24 HOURS EVENTS SOME MORE HEAVY AMOUNTS.  UNFORTUNATELY ARKANSAS EASTWARD INTO THE TENNESSEE VALLEY ADDING IN THE NEXT 36 HOURS WE'LL  SEE SOME PRETTY HEAVY AMOUNTS IN THE 80 CORRIDOR OR THERE BEFORE IT SWITCHES OVER TO SNOW  AND WE'LL CONTINUE TO SEE THE RAIN IN THE TENNESSEE AREA AND NORTHERN MISSISSIPPI NORTHERN  ALABAMA. AS YOU CAN SEE WITH A WHOLE BUNCH OF MOISTURE SIERRA NEVADA'S AS WELL AS OTHER  PARTS OF NORTHERN CALIFORNIA. NOW A LOT OF THAT'S GOING TO BE IN THE FORM OF SNOW IN THE HIGHER  ELEVATIONS AND YOU CAN SEE MASSIVE AMOUNTS IN THE SIERRA NEVADA MOUNTAINS. AND YOU CAN  SEE SOME HEAVY AMOUNTS WITH FOUR TO EIGHT MAYBE MORE PARTS OF NEW YORK PENNSYLVANIA.  SO WE'LL BE WATCHING THAT STORM AS WELL. HIGH TEMPERATURES TODAY STILL WARM GULF COAST IN THE  SOUTHEAST OTHERWISE CHILLY THROUGH THE MIDDLE OF THE COUNTRY NOT. NOT UNUSUALLY COLD OR  ANYTHING. TOMORROW MORNING WE'LL SEE LOWS IN THE TEENS IN THE FAR NORTHERN PLAINS 30S INTO  THE OHIO VALLEY 50S BY THE TIME YOU GET TO THE GOLF COAST. AND IT STARTS TO WARM UP A LITTLE BIT  AGAIN IN THE SOUTHWESTERN PLAINS AS WE HEAD THROUGH TOMORROW AFTERNOON. SO NOT TOO BAD  THROUGH THE MIDSECTION OF THE COUNTRY BY TOMORROW JETSTREAM SHOWING THE MOVEMENT OF  TROUGHS IN ONE OFF EAST COAST FOR A WHILE AS WE HEAD INTO THIS WEEKEND ANOTHER WORD COMES  IN OUT WEST ENDS UP OFF THE EAST COAST BY THE TIME WE GET TO NEXT WEEKEND OR AT LEAST LATE IN  THE WEEK. AND YET ANOTHER TROUGH FORMING IN THE WESTERN STATES BY THURSDAY. THAT'S A LOOK  ACROSS THE COUNTRY. NOW LET'S TAKE A LOOK AT SOME LOCAL FORECASTS. FIRST OF ALL LANDER  WYOMING TODAY MOSTLY CLOUDY RATHER COLD. HIGH OF 34 DEGREES. DECATUR ILLINOIS. MORNING  SHOWERS TURNING COLDER LATE HIGH OF 49 IN TAVARES FLORIDA PARTLY SUNNY AND VERY WARM TODAY.  HIGH AROUND 85 DEGREES 

TEASE
ALRIGHT AFTER THE BREAK, WE'LL CONTINUE OUR COVERAGE FROM  COMMODITY CLASSIC INCLUDING A LOOK AT SOME OF THE BIG ISSUES FACING  THE INDUSTRY IN 2018…INCLUDING FINISHING A FARM BILL. AND LATER, CLARIFYING THE MESSAGING FROM FARMER TO CONSUMER.  AGDAY - BROUGHT TO YOU BY RAM COMMERCIAL - AMERICA'S LONGEST-LASTING HEAVY DUTY  PICKUPS.

FARM BILL DISCUSSION
ONE OF THE BIGGEST ISSUES STILL TO SOLVE IS THE FARM BILL…LEADERS ON  THE HOUSE AND SENATE AG COMMITTEE CONTINUE TO SAY THEY'RE COMITTED  TO FINISHING THE LEGISLATION YET THIS YEAR. WASHINGTON WATCHERS SAY THAT'S MORE LIKELY FOLLOWING THE RECENT  CHANGES TO THE SAFETYNET FOR BOTH COTTON AND DAIRY. FARM GROUPS SAY THE AG INDUSTRY APPEARS TO BE IN SYNC WITH EACH  OTHER, BUT IT MAY THE OTHER 80 PERCENT OF THE BILL THAT CAUSES A HOLD  UP. IT SEEMS TO ME THAT THE BIGGEST ISSUE THAT WE HAD IN THE 2014 FARM BILL WAS NUTRITION FOOD  STAMP PROGRAMS AND I THINK THAT'S PROBABLY AGAIN GOING TO BE THE BIG ISSUE FOR QUITE A LONG  TIME. YOU'VE HAD BOTH THE CHAIRMAN OF THE HOUSE AND SENATE AG COMMITTEE SAYING WE HAVE  TO DO SOME KIND OF REFORM OR WE DON'T HAVE THE VOTES TO PASS IT. BUT WE ALSO KNOW THAT IF WE  DO TOO MUCH REFORM WE WON'T HAVE THE VOTES TO PASS IT. SO A VERY FINE LINE TO FIGURE IT OUT.THATCHER SAYS IF PROGRESS ISN'T MADE IN THE NEXT MONTH OR TWO, THE  CHANCES OF FINISHING A FARM BILL IN 2018 CONTINUE TO GO DOWN. ANOTHER YEAR OF STAGNANT FARM INCOMES ARE KEEPING PRESSURE ON  COMPLETING A FARM BILL ON TIME. AG LENDERS SAY DESPITE EXPECATIONS FOR FINANCIAL STRESS IN 2017, THE  FARM ECONOMY WEATHERED THE YEAR BETTER THAN ANTCIPATED. WE WERE ANTICIPATING THE STRESS TO BE HIGHER EVEN THAN IT HAS BEEN. AND I THINK WHAT WE'RE  FINDING IS THAT 2017 IN MANY PARTS OF THE COUNTRY WAS A I HATE TO USE THE TERM TREADING WATER  BUT IT DIDN'T GET ANY BETTER BUT IT DIDN'T GET A LOT WORSE. AND RIGHT NOW THAT THAT'S PROBABLY A  SUCCESS.FARM CREDIT SAYS THE BIGGEST CHALLENGE FOR 2018 BEYOND PRICES ON THE  BOARD, ARE INTEREST RATES. WITH RATES EXPECTED TO RISE, THAT'S GOING TO  MAKE BORROWING MORE EXPENSIVE. 

TEASE
WHEN WE COME BACK, GETTING THROUGH TO CONSUMERS…ITS JOB THAT'S NOT  YET COMPLETE.

IN THE COUNTRY
IN THE COUNTRY - SPONSORED BY KUBOTA.  TRACTORS, HAY TOOLS, UTILILTY VEHICLES, MOWERS AND  MORE.  VISIT KUBOTA.COM TODAY. BEING AN ADVOCATE FOR A CAUSE MEANS YOU'RE WILLING TO STAND UP AND  SPEAK OUT. BEING AN AGVOCATE IS A TERM OFTENED USED IN THE  AGRICULTURAL INDUSTRY AS IT WORKS TO TELL ITS OWN STORY ABOUT HOW  AND WHY FOOD IS PRODUCED THE WAY IT IS. BUT EVEN AFTER YEARS OF AGVOCACY THE WORK ISN'T DONE. "WE'VE GOT TO CHANGE THIS CONVERSATION. WE'VE GOT TO GET CONSUMER SENTIMENT AND BETTER  UNDERSTANDING THE TECHNOLOGY WE USE AND NO JUST BE OPPOSED TO IT BUT WELCOME IT." A TALL  ORDER EVEN AS COMPANIES LIKE BAYER AND OTHERS STAND UP FOR MODERN  AG. ADRIAN PERCY—HEAD OF R&D FOR CROP SCIENCE DIVISION OF BAYER "WE'RE ACTUALLY AT A TIME IN SCIENCE AND TECHNOLOGY WHERE THERE ARE AMAZING ADVANCES  GOING ON." "NONE OF IT MAKES ANY SENSE IF THERE'S NO PUBLIC ACCEPTANCE OF THE AGRICULTURAL PRACTICES ON  THE OTHER END OF THINGS." AND GAINING THAT PUBLIC ACCEPTANCE IS A GOALINE THAT CONTINUES TO  MOVE. A RECENT SURVEY OF CONSUMERS BY BAYER FOUND ONLY 31 PERCENT OF  CONSUMERS BELIEVE AGRICULTURAL ADVANCEMENTS ARE SAFE. MORE THAN THREE QUARTERS OF PEOPLE THINK THE LONG-TERM EFFECTS OF  GMO'S ARE NOT YET KNOW. AND A THIRD SAY THEY PLAN TO BUY MORE ORGANIC PRODUCTS IN 2018. ADRIAN PERCY—HEAD OF R&D FOR CROP SCIENCE DIVISION OF BAYER JULIE REYNES, COO FOUNDATION FOR FOOD AND AG RESEARCH COMMUNICATION IS A FUNNY THING IN THAT IT TAKES MILLIONS AND MILLIONS OR BILLIONS OF DOLLARS TO  DO AN EFFECTIVE JOB COMMUNICATING. SO I DON'T THINK THE FARMER'S STORY IS ONE THAT HAS BEEN  TOLD TOO MUCH I DON'T THINK THE U.S. CONSUMER ESPECIALLY HAS A GOOD SENSE OF THEIR STORY." BUT WHILE U.S. CONSUMERS REMAIN SKEPTICAL OF NEW TECHNOLOGY… FARMERS CONTINUE TO HEAR THE MANTRA…FEED A GROWING GLOBAL  POPULATION. "THERE ARE ABOUT 800-MILLION PEOPLE IN THE WORLD THAT GO TO BED HUNGRY." HUNGER OR A LACK OF FOOD REMAINS A COMPLEX AND STAGGERING  STATISTIC…BUT THANKS TO TECHNOLOGY AND RESEARCH "WE ARE GROWING MORE THAN ENOUGH TO DO IT TODAY. WE HAVE THE FOOD THE PROBLEM IS GETTING IT  TO THE PEOPLE." MAN MADE CONFLICT REMAINS THE BIGGEST DRIVER OF HUNGER. SOLVING THAT  PROBLEM IS POSSIBLE.. "IF YOU PRIORITIZE THIS..YOU'RE SENDING A MISSION TO MARS YOU'RE TRYING TO LOOK FOR LIFE ON MARS OR  DO AGRICULTURE ON MARS. ISN'T IRONIC THAT NOT BEING ABLE TO FEED OUR OWN PEOPLE HERE AND YET  YOU'RE LOOKING FOR LIFE ON MARS."IT IS POSSIBLE. YOU'VE GOT TO JUST PRIORITIZE IT AND HAVE THE WILL  AND HAVE THE COURAGE TO GO AHEAD AND DO IT."

CLOSE
AND THAT'S GOING TO WRAP US UP FROM THE 2018 COMMODITY CLASSIC. I HOPE  YOU ENJOYED THE COVERAGE THANKS FOR WATCHING AND FOR ALL OF US HERE  AT AGDAY…HAVE A GREAT DAY IN FARM COUNTRY. AGDAY - BROUGHT TO YOU BY RAM COMMERCIAL - AMERICA'S LONGEST-LASTING HEAVY DUTY  PICKUPS.