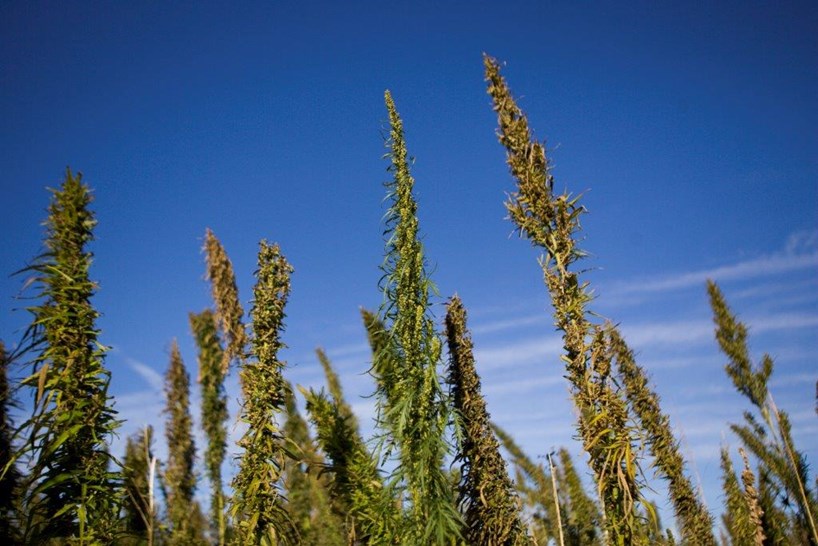 One million acres of hemp builds Trump's wall and $700 million buys the hemp, a pittance compared to overall construction estimates ranging from $15 billion to $70 billion.
A southern hemp wall is far from reality, but the concept reflects the remarkable promise of a once-maligned crop emerging in the marketplace. After roughly 90 years of dormancy, a sleeping hemp giant is awakening, and the numbers involved in a southern hempcrete wall reveal a crop with a phenomenal range of utility.
If a 30' tall and 2' wide hempcrete (a mixture of hydrated lime and hurd, hemp's woody core) wall was built for 1,954 miles along the southern border, the structure would translate to 619,027,200 cubic feet of space. Each cubic foot would require 17 lb. of hempcrete, extrapolated to a total output of 5,261,731 tons of hempcrete for the entire structure, according to Richard Rose, a long-time U.S. hemp pioneer and industry advocate: "The hempcrete could be poured into a form to make tilt panels, which would be trucked to the site and literally put in place, just like regular concrete panels."
Hempcrete is typically composed of 45% hemp hurd. At a yield rate of 4 hemp tons per acre (2 tons of hemp fiber per acre), 2,367,779 total tons would be required, Rose estimates, thereby necessitating 986,575 acres of hemp. At 15 cents per pound, the cost of hemp hurd for the wall would be $710,333,712, Rose projects. Granted, hempcrete would only be one facet of overall wall expense, but with current estimates ranging from Speaker of the House Paul Ryan's $15-billion total to Senate Democrat's $70 billion projection, hempcrete dollars would only be a sliver of the total expenditure. "In theory, you could dual-crop and lower the costs further," Rose explains. "Hempcrete is less finicky about fiber than making textiles and it likely could be done."
Beyond theory, would a hemp wall be genuinely possible? "It's feasible in terms of the botany, technology and processing," Rose explains, "but this is less a proposal and more a way to teach about hempcrete because most people just don't know about what hemp can do for the economy."
Andy Follett, owner of Follett Health Solutions, based in Pennsylvania, says the timing of Rose's estimates comes at a contradictory moment: "Richard's been at the forefront of hemp for so long. He put these wall numbers together and it seems ironic at a time when farmers need to farm, other crop markets are down, but hemp is still restricted by politics."
"Hempcrete is kind of like light limestone and looks similar to adobe," Follett adds. "When hemp and lime are combined, the mix turns to stone and basically petrifies."
Colorado-based builder John Patterson, owner of Tiny Hemp Houses, works with hempcrete and conducts hemp educational seminars across the country. Hempcrete is ideal for housing, he describes, and used as a replacement for drywall, insulation, exterior boarding, house wrap, siding and caulk: "Hempcrete performs so well as a healthy alternative to toxic materials. It's fire-resistant and its use as a thermal wall system saves on utilities by the month. I would rather build affordable, healthy hemp houses with those resources, instead of a wall."
"More and more farmers want to grow hemp," Patterson continues. "Beyond clothing, food, and housing purposes, scientists and engineers are working on a high-tech hemp market for medicine and petroleum product replacement."
In 2017, the entire U.S. domestic hemp tally was a mere 25,541 acres, according to Vote Hemp, and even China, the global hemp powerhouse, isn't anywhere near 1 million acres. However, Rose believes 1 million U.S. hemp acres could be a reality in the future. "If we hit 1 million hemp acres, it would disrupt 15% of food soy, such as for vegetarian foods, as opposed to fodder for animals, which is far larger. Hempseed can be consumed raw, is slightly higher in protein than soy, and is still eaten by a billion people every week in China."
"Most people still don't know about hemp products," Rose concludes. "As with all things hemp, the greatest hurdle is politics."
This block is broken or missing. You may be missing content or you might need to enable the original module.