In his late twenties, Brian Sieker faced a question common among today's generation raised in agriculture: How to go back to the family farm and find a source of substantial secondary income? Resisting the temptation to catch lightning in a bottle, Sieker banked on his personal knowledge, bootstrapped a specialized business with $1,000, and flipped the script on a proverbial maxim: You can go home again.
In 2014, searching for a job that provided extra income while still providing flexibility to farm, Sieker tapped a niche vein of agriculture and began providing machinery parts across the Corn Belt in what quickly developed into New Ag Supply. Harnessing the visibility of social media with one foot on the business floor and one foot in the crop rows, Sieker's dual passion afforded his wife, Ashley, and daughter, Hollis, a move from the big city to the flatlands of his family operation, all while keeping a tight rein on finances. "I'm proof you can start a business anywhere," Sieker says. "People that say you can't need to meet me."
"Me and the Product"
Surrounded by fields of alfalfa, corn, grain sorghum, soybeans, wheat, and a 60-head cow-calf operation, Sieker's topography is relatively flat and allows an unbroken gaze across his fields for 3-plus miles. Sieker, 36, farms alongside his father, Robert, in the bull's-eye of Kansas, just outside the tiny town of Chase, roughly 90 miles northwest of Wichita.
His exit off the farm began with a business degree, and climaxed as a Monosem salesman based in Kansas City, working 150 to 200 days on the road at a job where he thrived and soaked up invaluable lessons related to agriculture machinery, but the farm boy living in the suburbs kept an eye over his shoulder, always looking back to Rice County. "I loved Monosem and learned so much, and I loved Kansas City, but I just wanted my kids raised like I was. My wife wanted to stay home and raise the kids, and we wanted to go back to the farm."
The opportunity to go home arrived in 2013, but came shackled with a financial absolute: Secondary income was going to be of significant importance. Sieker returned to the farm in 2014, and took a cold, hard look at his strengths—salesmanship, marketing and planter know-how—and spotted an opening. "There were planter-focused businesses east of the Mississippi River and in the Corn Belt, but nothing in my geography. That was my initial opportunity. I started down the regional path, and now I sell just as much in the Corn Belt as I do in Kansas."
In 2014, Sieker made the plunge, and in 2016, his effort developed into New Ag Supply, a direct sales business based on his own expertise. Aiming for a toehold in the planter parts realm, and determined to start from the bottom and climb one rung at a time, Sieker began knocking on doors. A couple of key companies, Yetter and Pro Mags, put support behind Sieker and provided a major springboard: "Yetter and Pro Mags believed in me and that was key. Today, some of the other companies I work with told me 'No,' the first few times I asked. I learned not to burn bridges when rejected. A 'no' doesn't mean give up. You have to prove to them why your business makes sense and you have to get a supplier's confidence.  I focused on the ones that wanted me, built my business, and the others that said 'No,' recognized me and changed when they saw I was gonna make it."
Declining an inventory loan and dropping in a mere $1,000 investment, Sieker began dropping profit back into the business, trying to gain momentum, gain capital and fund advertising. Consistent trade shows, a bit of print advertising, and a deluge of social media slowly built interest in New Ag Supply. The social media angle, particularly Twitter, was invaluable to Sieker, generating roughly a third of his sales. "Twitter provided networking and a means to share in-field experience. It's not about selling; just sharing and connecting knowledge. If you research, treat people right, provide valid information, then maybe you'll get a sale down the road. The real investment you make is time. I sell nothing unless guys trust me, because they're getting me and the product."
Two-Way Street
Ryan Cramer, Yetter territory manager, says Sieker's success is based in knowledge of both soil and metal: "Brian is successful in his business and farm because he's worked both sides. He's farmed his whole life and has worked for an ag machinery company, and now he's focused on that expertise. He knows planters as well as anyone you'll find out there."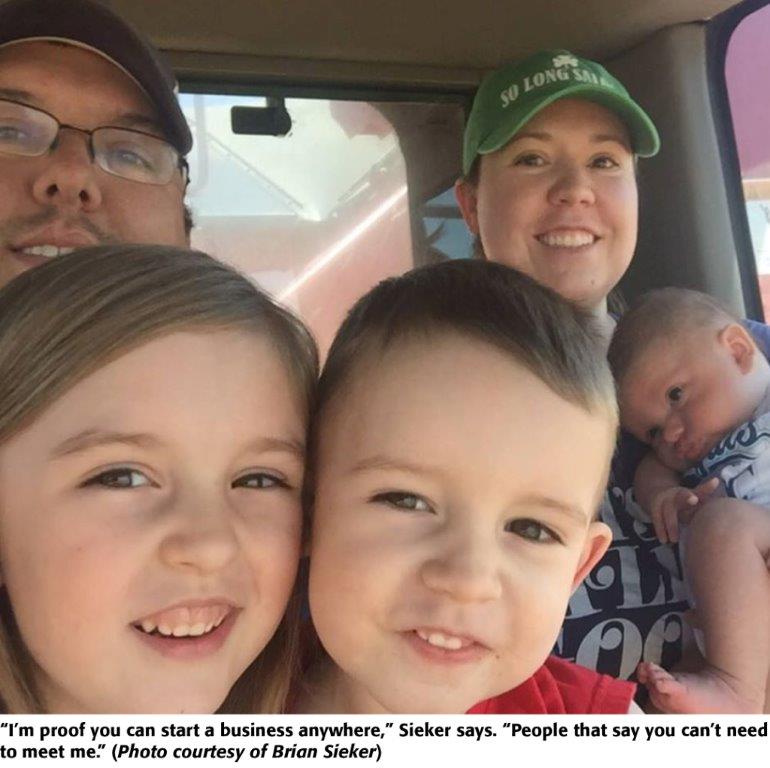 Roughly 170 miles from Sieker, in Leoti, Brian Downing grows dryland corn, grain sorghum, wheat and a mix of cover crops in far west Kansas, and the Wichita County producer is testament to Sieker's emphasis on authenticity. "I found Brian through Twitter," explains Downing, 34. "My generation has the power of a cellphone in our hands, and Brian excels at social media. Younger farmers have to find a niche to make it work. You can't just sit there riding the coattails of a dad, uncle, grandpa or neighbor, hoping they give it up some day and you get it. It doesn't work that way."
"Brian is available as a face behind a name to teach and not just sell. He treats you like a customer on a two-way street. Brian's always there to answer questions and he'll tell you not to buy something instead of making a sale if that's what is best for your farm," Downing adds. "That's why I've got friends driving past 10 implement dealers to find him."
Sieker's farmland soil is a wide-spectrum mix from beach sand to clay—a testing site of sorts for the range of products he sells. Each spring, on his planter, he rolls with a variety of new implements and a GoPro camera, noting how each part fares in the dirt. His customers are a source of indispensable feedback. "I learn about everything I sell so that guys can have confidence in me. I've got customers with four or five different closing wheels on their planters, just so I can get plenty of feedback. That's part of how I've learned and grown. More of my business is finding solutions for guys than selling products."
One of Sieker's initial key plays was focusing on products in direct use on his ground. "I didn't sell anything that didn't involve my own expertise and knowledge. I knew I had to be able to tell guys how to install, how to use, and how to get the most of a product in the field."
Case in point: in 2017, a large portion of Sieker's wheat went down to heavy winds, and he sought out Canadian crop-lifting machinery (Flexxifinger) with the nearest parts housed in Montana. In the crunch of a harvesting situation, parts in Montana can often mean very little to a grower in Kansas. "I deal with a big line of planter and harvester parts, but I added crop lifters to my business because I combined my own experience with opportunity. That's another niche product to sell in summer and fall when planters are in the shed."
No Magic Flip
With his reputation expanding far into the Corn Belt, Sieker is now experiencing customers pulling onto his farm, seeking advice and direction. The days of not getting a second look from the passing crowds at farm shows are over. "Listen, it was no fun to be at shows and only get 10 conversations over three days, but I paid my dues, and put in the work to slowly build up credibility. There is no switch you can magically flip in business. People must see your name and brand from multiple angles, and that may mean print, trade shows, and social media."
New Ag Supply ensured Sieker's return to his family farm, and he wants to provide similar opportunity for others in Rice County. "Our community is rapidly losing population. My ultimate goal is to grow my business and hire people so maybe somebody else's family can move back. Specialty products with a high level of knowledge attached is where I can expand."
Sieker insists plenty of opportunity exists for other farmers considering a return home, but restricted by the need for supplemental income. What advice does he have for growers seeking entrepreneurial opportunity? "Consider the skill set from your present job or field, and how it can be applied to goods and services where you hope to live. Nobody has the same package. Find a niche and start slow, because the opportunity is there."
For more, see:
Descent Into Hell: Farmer Escapes Corn Tomb Death
Farmer Refuses to Roll, Rips Lid Off IRS Behavior
Rat Hunting with the Dogs of War, Farming's Greatest Show on Legs
Killing Hogzilla: Hunting a Monster Wild Pig       
Frozen Dinosaur: Farmer Finds Huge Alligator Snapping Turtle Under Ice
Breaking Bad: Chasing the Wildest Con Artist in Farming History
The Great Shame: Mississippi Delta 2019 Flood of Hell and High Water
In the Blood: Hunting Deer Antlers with a Legendary Shed Whisperer
Farmer Builds DIY Solution to Stop Grain Bin Deaths
Corn Maverick: Cracking the Mystery of 60-Inch Rows
Blood And Dirt: A Farmer's 30-Year Fight With The Feds
Against All Odds: Farmer Survives Epic Ordeal