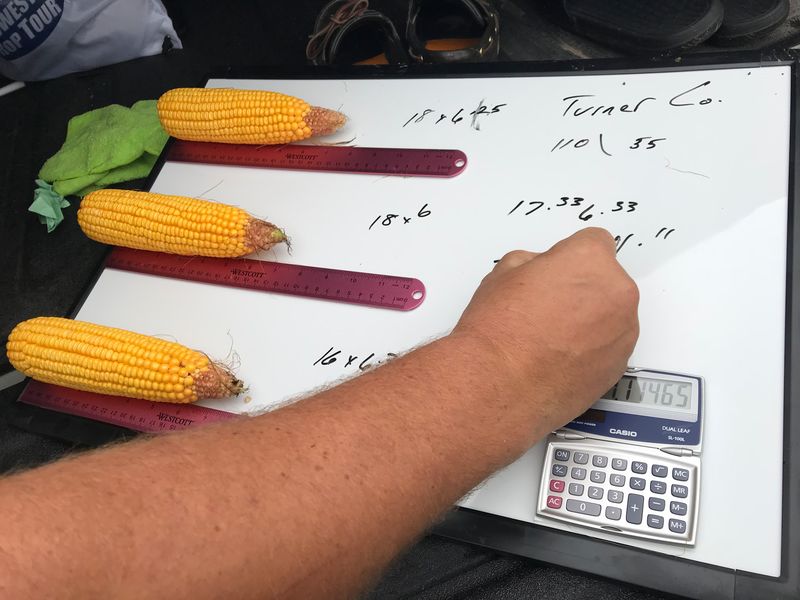 Since 2008 we've designated at least one of our veteran scouts on Crop Tour as Master Scout. Earning this title isn't easy. A Master Scout educates those around him, sharing his vast knowledge with other scouts to enhance their understanding of what we uncover as we trek across Corn Belt fields.  —Brian Grete and Chip Flory
Doug Miller
Doug Miller, Green, Iowa, started coming on Crop Tour in 2007 for a first-hand look at the crops across the Corn Belt. He quickly formed a lasting friendship with a group of fellow scouts that talks near-daily about crop conditions, weather, farming practices, etc.
Doug's ability to educate inexperienced scouts about what he's seeing in fields separates him from other crop scouts. He takes the time to explain field conditions and how that impacts yield potential.
"Doug is one of my most valuable scouts," says Eastern Tour director Brian Grete. "He takes the inexperienced scouts under his wings and uses the four days we are in fields to educate them. He not only shares his knowledge from field observations during the week, but he's also a true agvocate for U.S. production agriculture, especially with the numerous international scouts."  
For his 12 years of dedication to Crop Tour and all of the knowledge he's shared with hundreds of other crop scouts over the years, Pro Farmer is proud to welcome Doug Miller to the distinguished list of Crop Tour Master Scouts.
Marty Tegtmeier
Over the years, Marty Tegtmeier, Sumner, Iowa, has taken on the responsibility of making sure non-farming scouts understand what makes corn and soybean plants "tick." He's patiently explains agronomic issues, helps diagnose diseases and identify bug damage, not only for the media that travels along but for less-experienced farming scouts as well. He's always quick to respond to questions from other drivers and scouts.
Perhaps most importantly, Marty has a keen sense of some of the management changes, such as refuge in a bag and variable rate seeding, that could have a subtle impact on the data. His "heads up" on management factors give Crop Tour leaders an opportunity to account for these influences before they're categorized as an "unknown factor" when collecting samples.
Marty is a big-picture thinker when it comes to crop production, always helping Pro Farmer keep step with changes in agronomic and management practices. For these reasons, Pro Farmer is proud to add Marty Tegtmeier to the list of Master Scouts on the Midwest Crop Tour.
Kurt Line
When Kurt Line, Lake Village, Ind., was fairly new to Crop Tour several years ago, he wasn't afraid to point out a number was wrong. Even after being assured the numbers are what they are, he persisted, not questioning the overall outcome of the numbers, but stressing there had to be a typo in the spreadsheet because the averages didn't add up. He was right—there was a decimal point one digit too far to the right on a single entry hidden deep in the Nebraska spreadsheet.
Since then, we give a glance in Kurt's direction, looking for confirmation, when each day's results are released. In fact, the spreadsheets used each night to analyze the numbers include "Kurt's math" to ensure ultimate accuracy.
Kurt's contributions to the Crop Tour aren't confined to his attention to details. As with all Master Scouts, a willingness to communicate with others, educate and to put in the work required to pull a bunch of samples for many days are also on his list of accomplishments. Pro Farmer is proud to add Kurt to the distinguished list of scouts, which includes his father, Elwood.