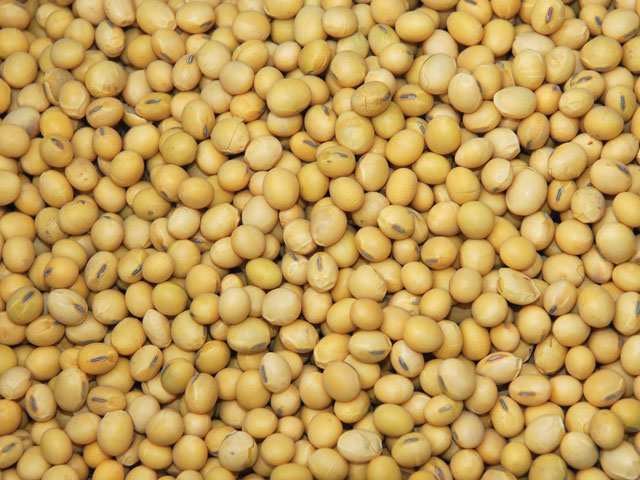 The November soybean chart shows the price discovery process that determines the value of soybeans based on known and unknown fundamentals, market psychology and the underlying macro facts including tariffs and trade. The value at the end of the day represents who won. Here are the major issues that have affected the soybean market this year.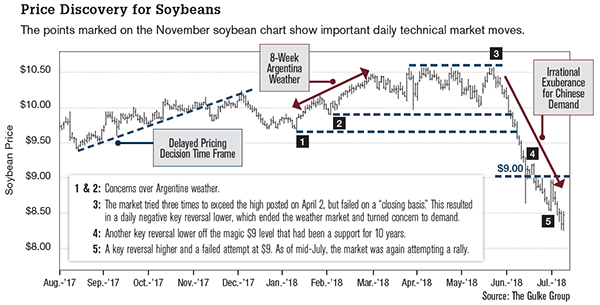 Weather: Concerns over the Argentine crop started in late December 2017 and were marked by the daily key reversal higher on Jan. 12, the day of the final USDA Crop Report. Weather markets last from six to eight weeks. The peaking of price on April 2, accounted for increases in Brazil's soybean crop that nearly offset the total reduction in Argentina.
Topping Action: The market tried three times to exceed the high posted on April 2, but failed. It is technically critical for any commodity to close above former highs (resistance) two times consecutively.
Irrational Exuberance: My weekly audio and written commentary on AgWeb.com reflect my opinion of the market's irrational exuberance to extrapolate historical year-over-year increases in Chinese demand into future years. USDA lowered China's imports this current year by 3 million metric tons (mmt) and next year by 8 mmt. This raises 2018/19 carryover by 250 million bushels. An increase in yield of 2 bu. would add 190 million bushels. A 4-bu. increase to 52.5 means carryout would be knocking on a billion bushels. An excess of 650 million bushels is equivalent to 12 million acres not needed in 2019.
A paradigm shift in outlook and price discovery is evolving. Agriculture Secretary Sonny Perdue stated he will wait until after Labor Day to decide on the details of support for agriculture. If yield is increased further, he can blame Mother Nature.
Multiply yield (48.5 bu.) x $9.50 cash price for a $460 per acre gross net in late May compared to $421 per acre of 51.5 bu. yield x $8.18 (my harvest cash in mid-July). That's a $40-per-acre difference or about $3.6 billion on the 90 million acres planted.
Who is to blame—tariffs or Mother Nature? It is to Perdue's advantage to buy time, and he got it. I don't think we need to get our hopes up of a massive check. 
It is said a dead-cat can bounce if your drop it from a high enough level. After dropping over $2 per bushel, hope of a rally of a dollar is conventional thinking. In the three phases of greed, hope and fear, I suspect the trade is at hope. It will probably take fear before a political action results. However, if ending stocks exceed 700 million bushels, it might be too little too late. 
The Latest From Jerry: Find Jerry Gulke's current market insights online. On Tuesdays he provides in-depth written commentary on the "Rest of the Story" with accompanying charts, and on Fridays he shares audio commentary. Visit AgWeb.com/gulke
Jerry Gulke farms in Illinois and North Dakota and is president of Gulke Group Inc., a market advisory firm. To contact him, call (707) 365-0601. Disclaimer: There is substantial risk of loss in trading futures or options, and each investor and trader must consider whether this is a suitable investment. There is no guarantee that the advice we give will result in profitable trades.