Planters were rolling across the Midwest on Monday. From Illinois to Iowa, farmers started sewing the seeds of their 2020 crop, a good sign for those hoping to not repeat the slow 2019 planting season.
We need more days like today. #Plant20 pic.twitter.com/zwcdVIUcll

— Blake McKay (@BlakeMcKay15) April 20, 2020
From snow on the ground 2 days ago to first day of planting today. Only in 2020. Feels good to be in the fields. #plant20 pic.twitter.com/FlHzzLAOKI

— Brandon Bell (@bjbell60) April 19, 2020
While Monday's weather provided favorable planting conditions for many farmers, that window to plant this week may be short-lived. U.S. Farm Report meteorologist Mike Hoffman says the U.S. could see some weak storm systems this week that could push farmers out of the field.
"On Monday, there's a storm system off the East Coast," says Hoffman. "We have a cold front down into northern Florida. That would be an area of rain and we'll even see a few snowflakes flying in the upper Midwest and northern portions of the Great Lakes with that weak system."
He says behind that first system is another weak system that could bring more moisture.
"The next system is going to be moving across the country. It'll start off with a little bit of moisture in California and Nevada and then move into the central part of the country as we head into Wednesday," says Hoffman. "There will also be some weak systems through the northern tier of states."
Hoffman says by Friday, that same system will drop more moisture into the Northeast, while another cool front could bring some scattered showers through the middle of the country.
30-Day Outlook
Looking out over the next 30 days, portions of the Corn Belt could actually see below-normal moisture.
"Here's my 30 day outlook for precipitation," says Hoffman. "I'm going with below normal precipitation for the Northern Plains, into the Great Lakes."
Hoffmann is also forecasting normal precipitation for most of the Corn Belt, except for portions of Missouri, southern Illinois and Southern Indiana. He also thinks the mid-South and South will continue to see above normal precipitation.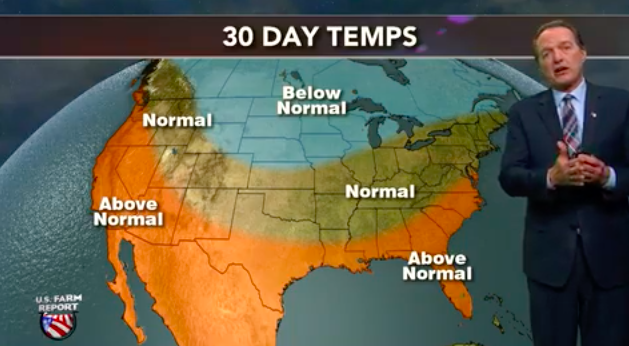 Related Stories: