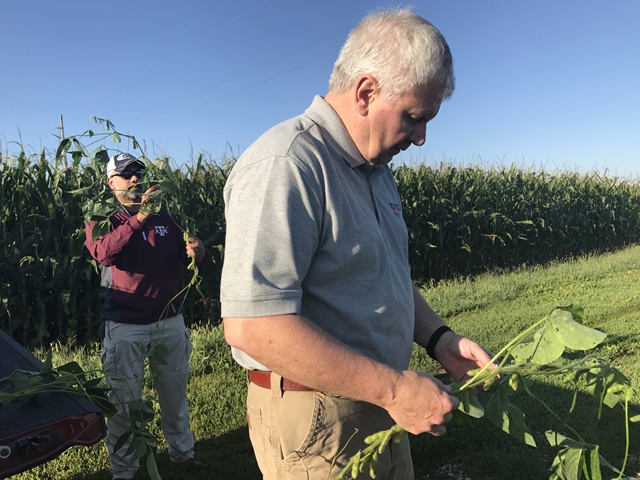 Midwest fields contain mature crops with strong yield potential
The goal of the Pro Farmer Midwest Crop Tour is to provide the industry with an accurate growing season snapshot and resulting corn and soybean production numbers. Scouts tally several measurements to estimate corn yield and count soybean pods in a 3'x3' square to gauge yield potential.
For 2018, crop scouts pulled more than 2,800 samples of corn and soybeans across the seven states on the Crop Tour route. In some states, consistency among samples was almost unbelievable. Although other states saw wide variances in yield estimates. Overall, the scouts sampled crops that were more mature for the third week of August than in years past. Some fields looked like they could even be harvested before Sept. 1.
All seven states showcased soybean crops that should produce higher yields than 2017, as scouts measured some of the most heavily podded beans ever seen on Crop Tour. The story was the same in corn, except for Minnesota, which showed a nearly 7% drop compared with yields in 2017.  —Staff Report
Aug. 20: South Dakota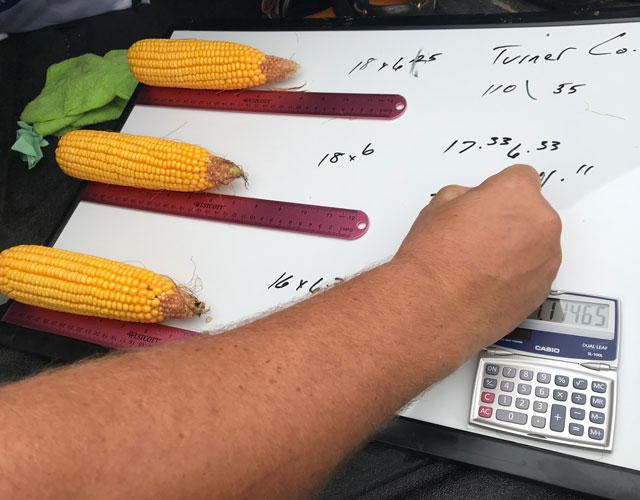 Projected corn and soybean yields in South Dakota toppled recent history. Tour results jumped an impressive 20.3% for corn and 13.9% for soybeans, both due to ear length and ear counts. The average ear length was 7.16" compared with 6.79" in 2017 and a three-year average of 6.74". This year's ear count average was 93.22, which is well above 2017's count of 84.35 and the three-year average of 84.82. Several drowned-out spots were recorded in fields, but disease pressure was dismal.
Aug. 20: Ohio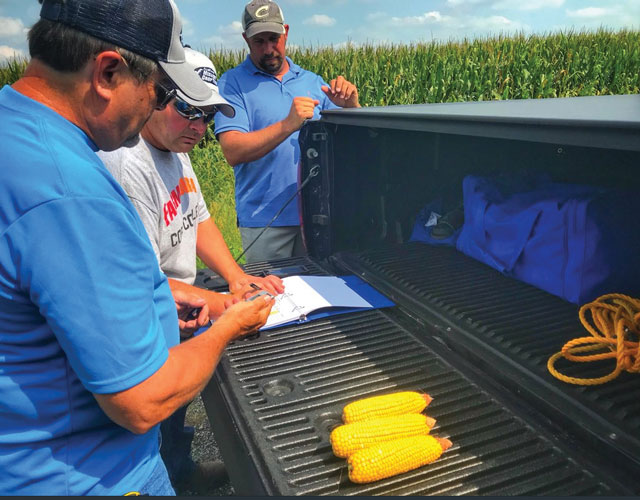 This year showcased one of the best Ohio corn crops ever recorded on Crop Tour. Results jumped an impressive 9.1% in corn and 12.8% in soybeans for Ohio fields compared with 2017. Ear counts really drove the corn yields, as scouts recorded almost 100 ears in 60' of row. Ohio soybean fields looked like green carpets—lush and healthy. Ohio corn averaged 179.57 bu. per acre and soybeans hit 1,248.20 pods per 3'x3' square. This year's estimates topple the three-year averages, which are 153.98 bu. per acre in corn and 1,095.77 pods in a 3'x3' square in soybeans.
Aug. 21: Nebraska

Scouts sampled more than 300 corn and soybean fields in Nebraska. Field after field showed crops with high yield potential. Tour results pegged the Nebraska corn crop yield at 179.17 bu. per acre, which was significantly above 2017's yield of 165.42 bu. per acre. Grain length for corn was up 4% and ear counts were up nearly 2% from this past year. Soybeans tallied 1,299.08 pods per 3'x3' square, which was 15% above 2017. Scouts recorded some disease pressure, such as sudden death syndrome. Overall, Nebraska soybean fields were some of the cleanest, in terms of weeds, ever recorded on Crop Tour.
Aug. 21: Indiana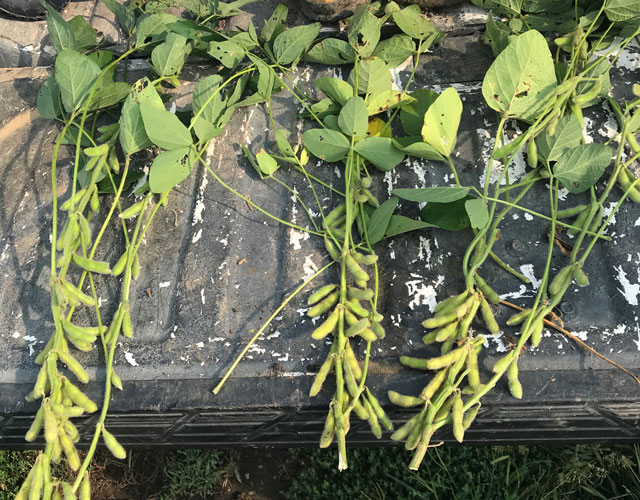 The Indiana corn and soybean crops both have the potential to significantly increase compared with 2017 yields. For the third week of August, the corn crop had advanced ahead of schedule. Scouts pegged the corn yield at 182.33 bu. per acre, which was well ahead of the three-year average of 162.53 bu. per acre. Scouts did notice some tip back in Indiana. For soybeans, scouts tallied 1,311.87 pods per 3'x3' square, which is a 12.2% jump versus 2017 and ahead of the three-year average of 1,146.76. Scouts reported ample moisture in most fields, which should allow the soybean crop to finish strong.
Aug. 22: Iowa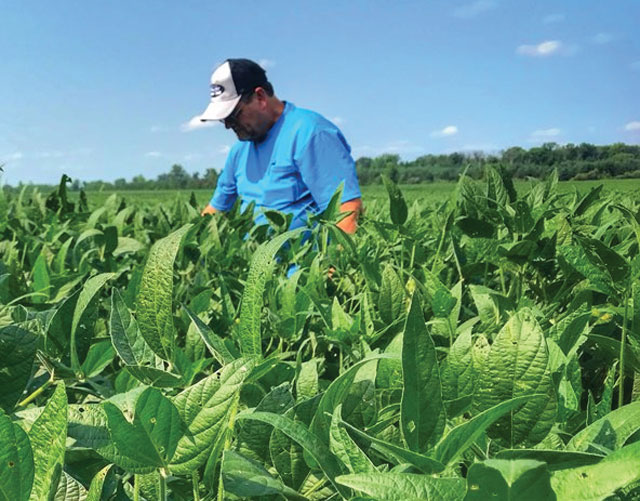 Both the Iowa corn and soybean crops are poised to yield higher than in 2017. The Iowa corn yield of 188.2 bu. per acre is nearly 5% above this past year. However, scouts found a lot of variance in fields. In the northern part of the state, corn and soybeans faced excessive moisture, while some farmers in the south endured drought-like conditions. Scouts didn't find nearly as many dented corn samples as the other states with the exception of Minnesota. Soybeans were heavily podded and showed few disease issues. Pods in a 3'x3' sample were tallied at 1,209, which is up 10.6% from 2017.
Aug. 22: Illinois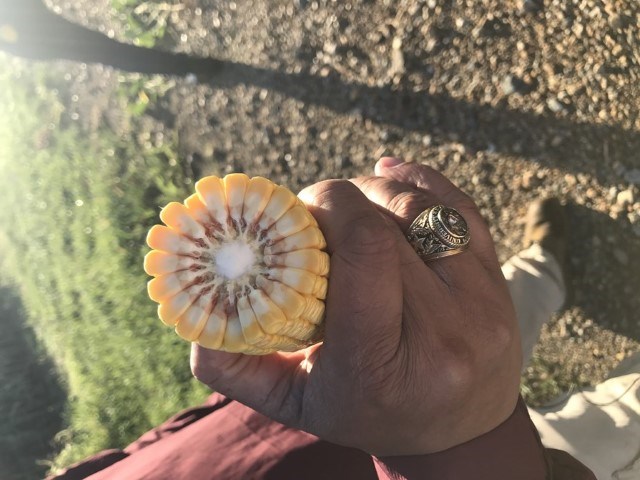 The Illinois corn crop looked healthy and strong. For 2018, scouts reported an average corn yield at 192.63 bu. per acre, which is 6.6% higher than 2017. Larger ear populations drove much of the jump in yield potential, as the average was 105.4 ears per 60' of row. Soybeans echoed corn in terms of having high yield potential and measuring very mature for the third week of August. Pods in a 3'x3' square were 8% higher than 2017, coming in at 1,328.91 for 2018. Scouts saw lots of pods already starting to fill. Yield estimates for Illinois corn and soybeans were the highest of Crop Tour.
Aug. 23: Minnesota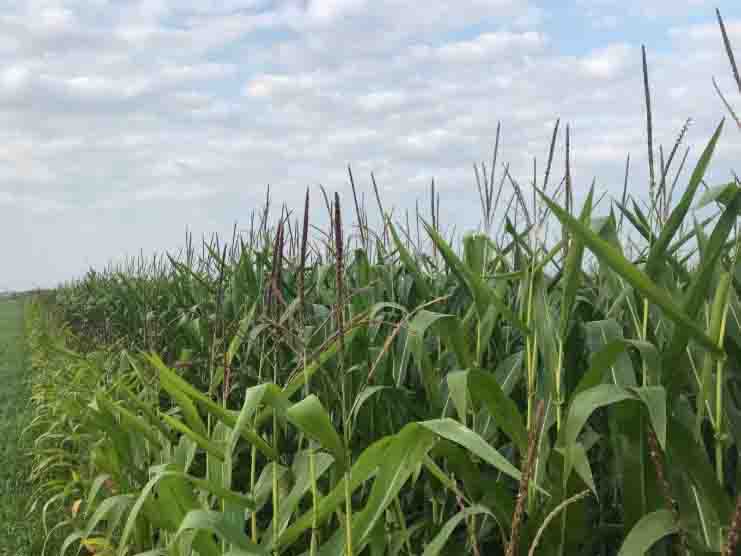 The Minnesota corn yield estimate took a sharp dive from a year ago. For 2018, crop scouts peg an average yield for the state of 178.67 bu. per acre. That's nearly 7% lower than 2017. Minnesota was the only state to show a year-over-year decline in corn yields. The crop was not maturing quickly, with some stands just tasseling in early August. Many corn fields showed low ear counts, shorter grain length and fewer kernels around. Because it was an immature crop during the third week of August, yields could go up or down from these estimates. Soybeans were also variable across the state, with disease pressure in some locations. However, crop scouts measured a soybean crop that had 1,090.47 pods in a 3'x3' square, which was 6.9% more than 2017 and also above the three-year average of 1,082.26.