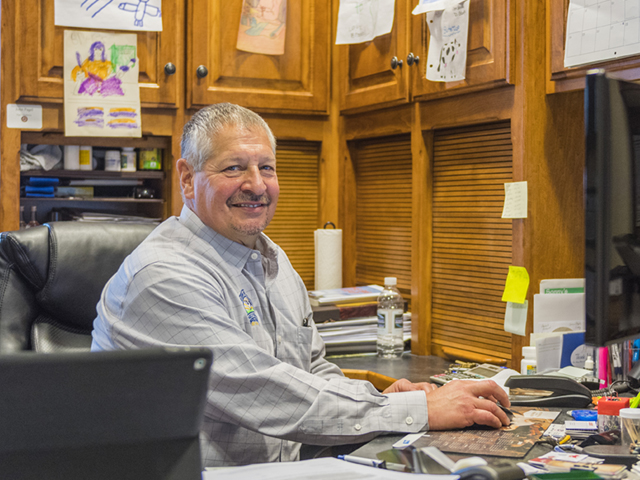 Life and business go hand in hand at Pagel's Ponderosa Dairy in Kewaunee, Wis. Owner John Pagel brings to the boardroom a hearty laugh, a generous spirit and a pencil-sharp mind honed by a love of finance.
He's invested his career in agriculture not only because he's passionate about farming but also because he sees how the work he is doing will position the fourth generation to succeed and how it will benefit his neighbors and all food consumers.
In short, he is continually seeking the next opportunity to positively affect his family, his community and anyone who enjoys eating. The family manages 8,500 acres and milks 5,300 crossbred cows in Wisconsin. It acquired a second operation, High Plains Ponderosa, this past winter in Kansas, milking 4,500 cows. The business has diversified, opening a farm-to-fork restaurant called The Cannery Public Market in Green Bay in 2015 and a cheese plant in 2016.
"It's good for our industry when people come to the restaurant because we've brought the farm to the city," John says. "People will now be more educated on where food comes from because of it. If we can get people out to the farm from the restaurant, the whole industry wins."
Successfully expanding the reach of agriculture to new audiences, keen attention to profitability through sound growth and diversification, and a clearly defined plan for leadership continuity earned John and the team at Pagel's Ponderosa Dairy recognition as a 2017 Top Producer of the Year finalist.
"Through ingenuity, dedication and boundless enthusiasm, John has grown the farm his parents started in 1946 into the largest single-family-owned dairy in Wisconsin," notes Tim Trotter, executive director of the Dairy Business Milk Marketing Cooperative, which John helped found. "John is a leader not only at Pagel's Ponderosa Dairy but also in the local community, the dairy community and our cooperative."
Growth Path. The farm, which celebrated 70 years in 2016, began modestly. John is the youngest of seven children, and his parents began the business with eight cows, a couple of hogs and chickens. John completed a one-year farm short course from the University of Wisconsin and returned to the operation in 1978. His parents retired and he took over the reins full-time in 1980 with 65 cows.
Today, the operation owns 4,500 acres and rents an additional 4,000. It raises 85% of its silage needs and purchases all grain and protein from local producers. The dairy uses a digester to make bedding for its cows and produces compressed natural gas for the city of Kewaunee.
At each stage of growth, John has put a premium on research and on surrounding himself with advisers who can provide insight into topics as diverse as milk quality and nutrition. That focus on education extends to the farm's team of 120 full-time and 10 part-time workers.
"All managers are required to take one training per year, and more if necessary, in a department that they need assistance in," John says. "We have that conversation as part of their annual review."
The farm hired its first CFO about three years ago. Before that, John filled the role, and his mental calculator continues to move at a rapid pace to help the business scale.
"We always invest money in income-generating units, which are cows. Instead of replacing equipment, we repair the old one," John says. "We borrow the money, build the barn, fill it, create additional milk revenue and a stronger cash flow. Then we pay down debt, and then we continue to do the same thing over and over, creating a pattern. The better we perform, the better our rates with our lenders."
Leadership Structure. The operation is built on three levels of management, with John as CEO, his children and CFO as the middle tier and eight additional leaders that oversee daily operations as the third tier. At 7 a.m. from Monday through Thursday, John meets with the eight leaders that are the farm's bedrock.
"Our employees know that there's always room for professional growth," says Julie Veldhuis, John's special friend of five years, who manages public relations and marketing initiatives for the business. "The opportunity is always there to rise up in management."
He has monthly meetings with his restaurant manager; the leaders of his cheese-processing facility, which makes multiple flavors plus curds and string cheese; and the leaders of Ron's Wisconsin Cheese, his product distribution company. They talk business and discuss who needs help.
"He loves what he does, and it shows. It's contagious. It's made me a much better person," Veldhuis says. "The kids joke about, 'What is dad doing now?' But John's made it a priority that he doesn't make any more decisions without having them on board. He says, 'I'm going to retire pretty soon, so this is up to you whether we proceed.'"
Profitability and a focus on milking excellence are critical. The family acquired majority ownership of High Plains Ponderosa Dairy in December 2016. The Liberal, Kan., dairy milks 4,500 cows.
"I will focus on Kansas for the next couple years," John says. "We'll see what develops in Wisconsin while we're doing it. A lot of times, you don't know what the opportunity will be until it presents itself. It's important to be set up financially to take advantage of that opportunity."
Family First. All of John's four children have returned to the operation. His oldest daughter, Jamie Witcpalek, graduated college with a bachelor's degree in business administration with an emphasis in human resource management. Because John requested his children work somewhere else before coming back to the family business, Jamie went to work at Schneider National.
She got married and moved back home to Kewaunee. After her first daughter was born, she decided it was time to return to the farm. She worked part-time in the office handling paperwork for new hires and payrolls. At the time, the family had two businesses, Pagel's Ponderosa Dairy and Dairy Dreams. Her role evolved as the businesses grew, and she is now chief operating officer.  The family has multiple businesses, eight of which have employees. 
Mona Pagel, John's sister, also leads the Communication, Accountability, Respect, Sustainability (CARS) program, which the family developed to train workers on the importance of the organization's economic, social and environmental aspects.
"We need to spend more time working on employee development," Jamie points out.
John J (JJ for short) is a herd manager at the family's Dairy Dreams facility, which is operated as a partnership between John and a longtime friend, Don Niles. JJ is involved in production with the milking herd and young stock.
Dustin intends to return to the farm full time in the future and is working for a custom harvesting team. Like his siblings before him, Dustin is required to work off the farm for three to five years. 
Bryan returned to the farm 15 years ago and started overseeing the digester 10 years ago. He also managed the dryer. Now, he is exclusively focused on leading wholesale meat sales, which the operation has done for one and a half years in partnership with a local butcher, and cheese sales.
"Cheese is made on the farm and trucked to Ron's, where it is packaged and vacuumed-sealed," Bryan says. "Then, trucks distribute the cheese in about an hour radius."
He develops grocery customers interested in buying cheese, beef jerky and beef sticks and also sends cheese, hamburgers and steaks to The Cannery.
"Dad has a hard time sitting on his hands," Bryan explains. "The end goal is for us to keep his dream alive but also figure out something of our own that we [the four siblings] did as a group."
The elder Pagel has 12 grandchildren, and he speaks frequently about ways in which the farm's activities today will provide them with opportunities in the future. The family has put a robust transition plan into place with the understanding that the four children will develop into leadership roles and that one will become CEO.
"When I hit 62, I want to slowly transition myself out," John says. "I'll never get out completely, but out of day-to-day operations. That transition will probably take five years. The oldest grandchild is 15, with the youngest being just 2. As their parents learn to run the business, they will be working behind them. I think the timing is about right."
Turnover is minimal, John says, because of the time and investment each receives. "Our guys are being recruited all the time because other businesses want guys with experience," he acknowledges. Sixty percent of the team is Hispanic, and 20% prefer Spanish as their first language, so the company hired an in-house translator.
The farm offers numerous benefits including 401(k)s and health insurance. Employees don't have to work on their birthdays. The farm hosts pool tournaments, open houses and cookouts. It provides and launders its own uniforms.
"It's no joke when John says we are one big family," Veldhuis says. "He looks at any of our people and their children as family."
Community Leader. All of the farm's new endeavors, from the cheese plant to the restaurant, reach people beyond the farm gate. Not all ventures are profitable from the start, but John sees the long-term payoff.
"We're not looking to make a lot of money with these other businesses," he says. "We just don't want to lose a lot of money. We believe it's good for our core business."
John continues to invest his time outside of the farm. He has been a school board member with the Kewaunee School District for seven years, serves on the board of water-quality improvement nonprofit Peninsula Pride Farms and led the building of University of Wisconsin's Arlington dairy research station. He is on the county's Soil and Water Conservation Board, a position that allows him to keep track of new regulations that could affect farmers.
Each year, the farm hosts close to 30 seventh- and eighth-grade students who spend a week working on the operation to learn about agriculture. It hosts a career day every two years, each of which attracts more than 1,100 students.
"From small projects such as on-farm tanker milk loading, sand bedding, school board and county board to state and national dairy policy, John is revered in the industry," says Thomas Wilson, vice president of commercial lending at GreenStone Farm Credit Services in Sturgeon Bay, Wis. "He has the ears of many national dairy industry leaders and representatives and is influencing dairy policy."
Now, his children and grandchildren are helping to write the dairy's next chapter around its core values of family, community and stewardship.
"It's amazing that I get to work with my children and have the grandkids get off the school bus here every day," John says. "I'm very blessed in many ways." 
---
About Pagel's Ponderosa Dairy
Operation: The family's business entities include 6,500 crossbred milking cows and 8,500 acres in Kewaunee, Wis., and Dairy Dreams, a partnership milking 2,800 cows. It acquired majority ownership of High Plains Ponderosa in Liberal, Kan., last December, milking 4,500 cows.
Family: Third-generation owner John Pagel has four children. His daughter, Jamie Witcpalek, is COO. His sons are Bryan, who manages meat and cheese sales; JJ, who is a herd manager at Dairy Dreams and works in production with the milking herd and young stock; and Dustin, who is working for a custom cropping team. John's special friend, Julie Veldhuis, manages public relations and marketing. His sister, Mona, trains team members.
Technology: The operation has a 72-stall rotary milking machine that produces 498,000 lb. of milk each day. It also has a new dryer for producing bedding with burners that can run on methane or natural gas for greater efficiency. In 2003, Pagel's Ponderosa Dairy was named Innovative Dairy Farm of the Year, an award sponsored by the International Dairy Foods Association and Dairy Herd Management.
Diversification: The company has diversified to include a cheese plant; a cheese distribution company called Ron's Wisconsin Cheese; and a restaurant called The Cannery Public Market in Green Bay.
Leadership And Community: John has served on the school board of the Kewaunee School District for seven years and is chairman of the county Soil Land Water Committee. He is president of Dairy Business Milk Marketing Cooperative, the country's sixth-largest dairy coop.
---
How To Start A Restaurant From Scratch
To launch their Green Bay restaurant called The Cannery Public Market, the team at Pagel's Ponderosa Dairy looked beyond their operation.
"We hired two consultants, one for the business plan and one for the look and feel," explains Julie Veldhuis, John's special friend of five years, who manages public relations and marketing. Among the
questions they considered: How many times do we need to turn tables during the day to be profitable?
The team broke down all financial aspects of the business as they prepared for launch. It celebrated its second year in operation this August.
Occasionally, team members get questions about GMOs, so the management team coaches employees to be comfortable talking with customers. New employees are brought to the farm for tours.
A local general manager directs the restaurant business.
"People have embraced us and supported us. They love the concept," Veldhuis says. "We have kept that sustainability and recycling aspect. The lumber on the walls is all from our barns. The beams hanging above the bar are all from the barns, and the tin is from the silo."
The team even works with a neighboring business, Title Town Brewery, to host a combined event called Beer and Barns.
"We start at The Cannery and come here to the farm. We do the farm tour, pair our farmstead cheeses with beer, then bring them back to The Cannery," Veldhuis explains. "We do a brewery tour. We follow it with a beer and beef dinner. Everything is included. It's a blast."
Nate Birt contributed to this story.
This block is broken or missing. You may be missing content or you might need to enable the original module.