Published on:
08:20AM May 27, 2019
Memorial Day is often referred to as "the solemn holiday," and understandably so. On the last Monday of May, we honor the men and women who died while serving in the U.S. military. Originally, though, Memorial Day was named Decoration Day by General John A. Logan who, in 1868, called for a nationwide day of remembrance for U.S. Civil War dead.
"The 30th of May is designated for the purpose of strewing with flowers or otherwise decorating the graves of comrades who died in defense of their country during the late rebellion, and whose bodies now lie in almost every city, village and hamlet churchyard in the land," Logan proclaimed.
Some historians say May 30 was selected for the annual holiday originally because it wasn't the anniversary of any particular Civil War battle. Others believe the date was selected because spring flowers would be readily available to decorate burial sites and memorials. Regardless, on that first Decoration Day at Arlington National Cemetery alone, 5,000-plus people turned out and decorated the graves of the 20,000 Union and Confederate soldiers buried there.
In 1968, Decoration Day was renamed Memorial Day, with the holiday becoming a day of remembrance for everyone who served in the U.S. military and gave their lives in war. The official holiday was then moved to the last Monday of May in 1971.
Today, in addition to honoring our military heroes, many Americans spend time during Memorial Day remembering and honoring family members now deceased by visiting their graves and decorating them with flowers.
For my family, the 2019 holiday is particularly meaningful because my grandparents, Tom and Ethey Haase, married on the original Memorial Day (Decoration Day)100 years ago--May 30, 1919.
Even for that day and age, theirs was a brief courtship and an even faster marriage. My grandfather, back from World War I and farming in southwest Missouri, had suffered the loss of his first wife in childbirth two years earlier. Alone and lonely, he became reacquainted with Ethey, whom he had known since childhood but who had relocated to Oklahoma with her family. It just so happened that that May she was back in Missouri staying with relatives, when my grandfather showed up for a visit and took a shine to her. He was 25 and she was 17, just a few days shy of 18.
Someone in the family called my great-grandfather, Jerry, in Oklahoma to alert him that a budding romance was underway between the couple. He then sent word to Ethey that he was on his way by train to collect her and take her home.
My grandmother, being the strong-willed young woman that she was, decided she wasn't going back to Oklahoma and convinced my grandfather to elope. They didn't own a car but had family friends who did, Elzie, Lillie and John Paden, who were willing to drive them to the Jasper County courthouse in Carthage, so they could get a marriage license. That was no small feat, given that the county offices were closed for the holiday. After considerable effort, they located a county judge who helped them secure a license and locate a minister who would marry them. The small wedding ceremony was presided over by a Reverend Nix and witnessed by the Padens. I know these few details only because my grandmother recorded them in her Bible.
I'm not sure what was said or debated once my great-grandfather showed up to collect my grandmother, but he went back to Oklahoma without her.
My grandmother, even into her 80s, loved to share the story of how she and my grandfather eloped on Memorial Day. My grandfather, for his part, always liked to say of my grandmother, "I got a good one, and I kept her." They were married for 60 years.
This Memorial Day, I am taking time to give thanks for my grandparents while I also remember and pay tribute to the men and women who died for the freedoms we get to enjoy every day in this great country. Their ultimate sacrifice made families like mine possible, and I'm grateful.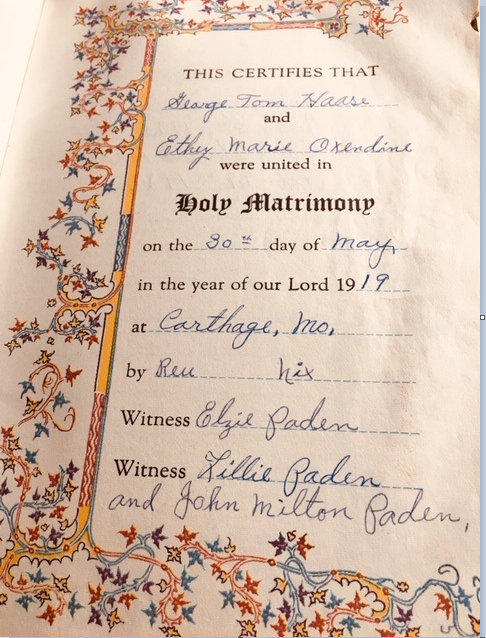 This block is broken or missing. You may be missing content or you might need to enable the original module.